Sunday, January 11, 2009
Gunner Moody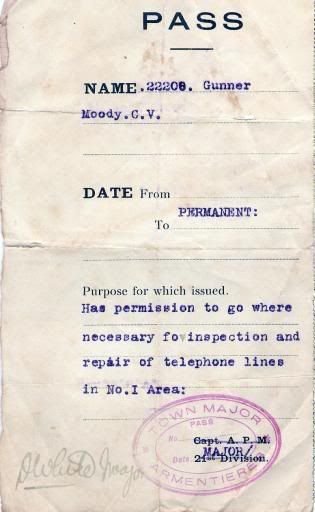 How Jack came to have this pass in his possession, I do not know. He was a fellow artillery signaller, that is clear.
Some research at the Australian War Memorial and National Archives websites turned up the following information.
SERN 22208 Clement Vaughan MOODY.

8th Field Artillery Brigade, 30th Battery.

Foster son of Charles and Annie Lawrence, of Bevis St., Adelaide, South Australia. Native of Mount Gambier, South Australia.


Killed in Action 18/10/1917, which was the the day after my Grandfather's 30th birthday.
---------------------------------------------------------
That was some 30 months ago. Today, I looked into the digitised files for Clement Moody at the National archives of Australia. What a sad story they told.

Here is a quick summary. A little boy, 7 years old and with an unmarried mother, is left in the care of an elderly couple whose family had all long ago left home. The mother leaves Adelaide for Perth, promising to send money for his upkeep. She does, for 4 months, then nothing for the next 12 years. The Lawrences have become attached to the lad and raise him as his own. He is contributing his pay of 30 shillings a week to the household when he joins the Army just before his 20th birthday. During his service, Annie Lawrence banks his Army allotment dutifully, awaiting his return. When he is killed in action, his foster parents receive his personal effects and, eventually, his medals and photographs of his grave site from the War Graves Commission. The search begins for his mother, and when she is found she states that the Lawrences can have his medals. Then, comes the problem of the gratuity. As his birth mother is his legal next of kin, and despite a very sympathetic investigation of the circumstances by the Army, his foster parents are deemed not to be eligible for the gratuity, despite the fact that they are 80 years old, receive a weekly pension of 13 shillings, pay 13 shillings in rent, and live off Mr Lawrence's capital of just over 24 pounds. Annie Lawrence still hasn't touched the bank account containing Clement's allotment, now with a balance of over 123 pounds (a lot of money for the early 1920s).
Note (30 March 2010): I have found an account of Gunner Moody's death in the book "Death Sat on a Pale Horse" by Alison Miller, published by Hudson Publishing.
Further investigation into the Red Cross records at the Australian War Museum website shows that Gunner George Ridgway (who was with my grandfather on the day they both won the MM) was a recorded witness to Moody's death. George Ridgeway also witnessed the death of the Red Baron.
See the post in Jack's Diary.

Labels: 30th Battery, 8th FAB, C V Moody, Clement Vaughan Moody, Field Atrillery, Great War, Gunner Moody